COVID-19 triggers relapse in woman with undiagnosed aHUS: Case report
Relapse was accompanied by small blood clots forming throughout patient's body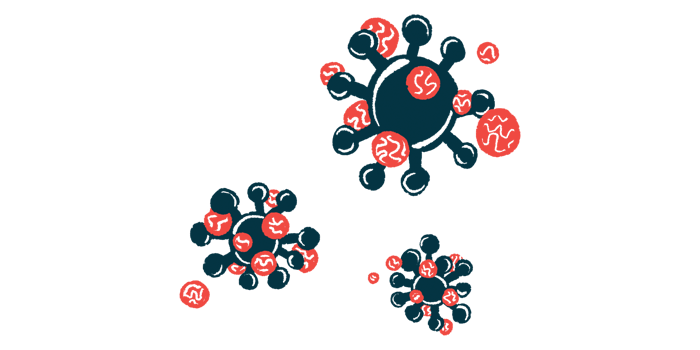 COVID-19 may have triggered a relapse of atypical hemolytic uremic syndrome (aHUS) in a 31-year-old Japanese woman who was previously undiagnosed, according to a recent case study.
The relapse occurred while the woman was positive for SARS-CoV-2, the virus that causes COVID-19, and was accompanied by disseminated, or diffuse, intravascular coagulation, a condition wherein small blood clots form throughout the body.
Although several cases of aHUS relapse triggered by COVID-19 have been described, this was the first of a patient "with aHUS who developed TMA [thrombotic microangiopathy] and diffuse intravascular coagulation," the researchers wrote in "Relapse of atypical hemolytic uremic syndrome triggered by COVID-19: a lesson for the clinical nephrologist," which was published in the Journal of Nephrology.
aHUS is a form of TMA, which is marked by the formation of blood clots in small blood vessels that causes damage to organs, especially the kidneys. It's marked by hemolytic anemia (excessive red blood cell destruction), low platelet counts (thrombocytopenia), and acute kidney failure.
Most people with aHUS have mutations that affect one or more components of the complement system, causing it to become overactive. The system is one of the body's defense mechanisms, responsible for activating a cascade of pro-inflammatory and blood clotting proteins.
While aHUS-related mutations increase a person's risk for aHUS, they're not enough for the disease to develop. A trigger is usually needed, such as events that activate the immune system, particularly the complement system.
COVID-19 triggers aHUS relapse
Researchers in Japan described the case of a 31-year-old Japanese woman who went to a hospital because her urine was dark brown.
She had had three previous TMA episodes — at ages 3, 8, and 17 — each triggered by a different infectious disease. She received treatment for each and recovered fully. Her father, paternal uncle, and paternal grandmother also had a history of TMA. Despite this, no genetic testing had been done.
The woman also had high blood pressure and abdominal tenderness. Laboratory analyses showed thrombocytopenia, acute kidney injury, and disseminated intravascular coagulation. Signs of hemolytic anemia were seen in further analyses.
The woman had a positive SARS-CoV-2 test. She reported she had never had COVID-19 and was not vaccinated for it. A CT scan showed no signs of pneumonia or other infections.
Treatment with plasma exchange was started and her blood pressure decreased. However, her blood creatinine levels rose (a marker of kidney dysfunction), her daily urine volume dropped, and her body began retaining too much fluid, requiring her to undergo hemodialysis. Urine volumes and fluid levels started to normalize, and her hemolytic anemia resolved, leading doctors to stop the hemodialysis and plasma exchange after seven days.
Several possible TMA-related diagnoses were ruled out during her hospital stay. The researchers couldn't pinpoint a common cause for her TMA episodes, leading them to suspect aHUS. However, they decided to postpone anti-C5 antibody therapy, a type of therapy approved for aHUS, since her TMA event was resolving and her condition was stable. After 17 days, the woman was discharged and remained well with normal laboratory results at follow-up.
Genetic testing revealed she had a mutation in the C3 gene, p.I1157T, confirming aHUS. C3 mutations, particularly p.I1157T, are the most common aHUS mutations in Japan and patients with it generally respond well to antibody therapy, according to the researchers.
"Thus, should we suspect a further aHUS relapse, we will promptly administer … an anti-C5 monoclonal antibody," they wrote.
After a literature search, the researchers found eight reported cases where TMA developed during an aHUS relapse triggered by COVID-19. None had disseminated intravascular coagulation, however.
SARS-CoV-2 can increase the risk of blood clots through several mechanisms and the hyperactivation of the complement system is a known characteristic of COVID-19. Although the woman had mild COVID-19, the researchers hypothesized that SARS-CoV-2's complement activation might have contributed to her coagulation dysregulation.
"SARS-CoV-2 can trigger TMA through complement activation, especially in patients with aHUS. Rapid suspicion of aHUS is required to consider timely plasma exchange or an anti-C5 monoclonal antibody," they wrote.